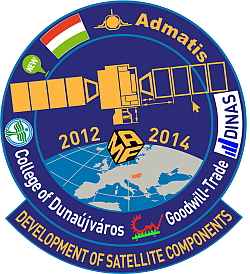 The project was the first space industrial development project of the New Széchenyi Plan GOP tendering system financed by Hungary supported by EC. The main goal was to build up a selection of key technologies and hardware prototypes for satellite industry. Widening the space capabilities inside Hungary is essential step forward to be an accepted subcontractor of big international primes. In the two years long project six areas were identified to develop:
Manufacturing of satellite small and medium size metallic parts
Large Mechanical Ground Segment Equipment (MGSE)
Vibration tests
Surface treatments
Lightweight sandwich materials
Engineering (specification, design, finite element modelling)
ADMATIS coordinated the consortia with members:
As results of project several procedures have been developed and qualified according to Sentinel-2 and CHEOPS mission requirements and a set of prototypes designed, analyzed, built up and verified successfully.
Project statistics:
71 employees
49 procedures
364 documents
168 technical drawings and 3D models
559 prototypes
1292 test plates
Manufactured hardware components::
MGSE, adapter rings with 1.5 m diameter
MGSE, trolley
Passive radiators
Optical barrell with lens fixation devices
Isostatic Mounts
Sandwich panels with honeycomb, plastic and metal foam cores
Panel inserts
Composite Telescope Baffle
Developed technologies:
Machining of aluminium, titanium, and INVAR steel
Precision manufacturing of large MGSE
Aluminium welding technology certified by TÜV
Bonding of aluminium for low temperature application
Bonding of aluminium for elevated temperature application
Conversion coating with hexavalent chromate for aluminium alloys
Environmental friendly conversion coating with trivalent chromate for aluminium alloys
Black paintings for thermo-optical applications
White painting for thermo-optical applications
Anodizing technology for aluminium alloys
Manufacturing of sandwich panels with insert installation